Though the club is holding only 16 years of experience but still it managed to produce the achievers who in their own contemporary style set the field ablaze. They exhibited their polished skill and accuracy on the field. Some of them who made it big are: Tim Hardaway, Alonzo Mourning, Glen Rice and Rony Seikaly.
Tim Hardaway was born on 1 st September 1966 . He was a free agent and was not a serious consideration before the 1996-97 season. But still he had some great seasons with the Heat. He averaged 20.3 points and 8.6 assists per game. He played as a point guard. He was the Golden State Warriors 1 st round (14 th overall) pick of the 1989 NBA Draft. He was traded to the Heat by the Warriors in the middle of the 1995-96 season. He played in the Heat's uniform till 2001. In his best seasons, Hardaway averaged 18-23 points and 8-10 assists per game. He competed in five NBA All-Star games.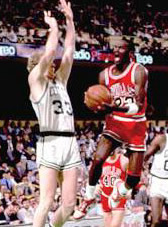 Alonzo Mourning was born on 8 th February 1970 in Chesapeake , Virginia , USA . He was Charlotte Hornets second overall pick of the NBA Draft. In 2005 he was traded by the Hornets to the Miami Heat. He played seven seasons with Miami . In 2003, he signed a four-year contract with the New Jersey Nets.
Glen Anthony Rice was born on 28 th May 1967 in Flint , Michigan . He stands 6 feet 8 inches tall. He was the 1989 Tournament Most Outstanding Player, and became the fourth pick in the 1989 draft by the Miami Heat . Rice gave his best merely in his first season with Miami. In 1995-96, in Hornets uniform, he split time with point guard Kenny Anderson and power forward Larry Johnson to form one of the top trios in the league. He became one of the top scorers of the 1995-96 league.
Jobs for programmers - Freelance guide & articles covering programming jobs, web design jobs, flash animation jobs, graphics design jobs and more!
Free Blog Hosting - Free blog hosting service featuring search engine friendly URLs, multiple authors per blog support, multilingual support, pre-installed scripts and templates